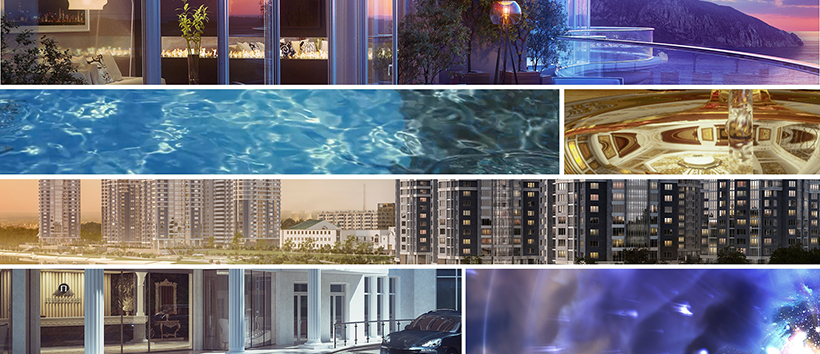 COMPUTER GRAPHICS PLATFORM
Kolyada Group develops and commercializes premier quality computer-generated imagery (CGI) and integrated solutions in visualization and graphics. Our team is dedicated to combining existing best practices in creating images and effects with innovative approaches to programming for the graphics. We work collaboratively with Mirostroy - a boutique firm with over a decade-long track record of producing quality graphics.
What we do:
We have been working for our clients in real estate visualization; interior and exterior design; urban planning and landscaping; luxury objects prototyping and modeling; media content creation; scene, character and effect design for various applications. We deliver full range of services: designing a concept, contributing to complex images or scenes, developing finished products. The team has excelled in creation of static images, 3D graphics, animations, video effects, fractal landscapes, virtual and augment reality environments and applications. Benefitting from having strong in-house software development practice, we are capable of designing supporting software and implementing the ideas on mobile and web platforms.
How we do it:
Some of the technologies and frameworks that we work with include 3Ds Max, CAD, Adobe Photoshop, Maya, Corona, After Effects, Houdini, Unity 3D.
---
• Object and environment visualization
Application:
Construction, modelling, civil engineering, landscaping, interior design, prototyping of objects for pre-production and marketing purposes.
• Scientific and technical imaging
Application:
Visualization of objects, substances and processes on micro and macro scales: e.g. biology, anatomy, life sciences (molecule discovery), chemistry, astronomy, educational programs.
• Animation and video
Application:
Architectural animations, visual effects for arts, commercials, video games, films, simulators. Modeling of dynamic substances (fluids, gases, fire) and complex solid objects
Computer-generated scene and character design.
• 3D and 360-degree visualization
Application:
Visual scenes, panoramic and "walk-through" environments.
Augmented/virtual reality
• Interactive simulated and augmented environments
Application:
Commercial, educational, entertainment software for the handheld devices and wearable electronics.